Contents of this web site and all original works are copyright ©2010-2015 Normandy SDC - All rights reserved.The material on this site may not be reproduced, distributed, transmitted or otherwise used, except with the prior written permission of the owner.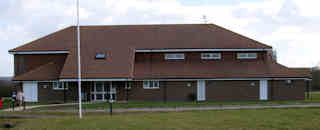 Normandy Sequence Dance Club meets every Wednesday evening from the middle of September until the middle of May each year at Normandy Village Hall, Manor Fruit Farm, Glaziers Lane, Normandy, Surrey, GU3 2DD: a large modern building with large suspended wood floor, excellent for dancing on. The Club has been in existence for almost 60 years and currently has over 30 members. Dancers of all levels including beginners are very welcome. Please telephone the Secretary for details (tel. number below).
The Club Leaders are Brian and Tricia (left).
The weekly programme consists of a variety of the latest modern sequence dances interspersed with some of the old favourites. A seletion of new dances are also taught.
The Club meets every Wednesday from mid-September to mid-May from 19:45 to 22:15 and has one formal dance almost every month normally held on Saturdays. Photos of previous dances can be found on the Photo Page. A full list of forthcoming Normandy SDC Dances can be found on our Diary Page.
The current committee officers are: Brian Davies - Chairman, Tricia - Secretary (07884-107916) and Roland - Treasurer.